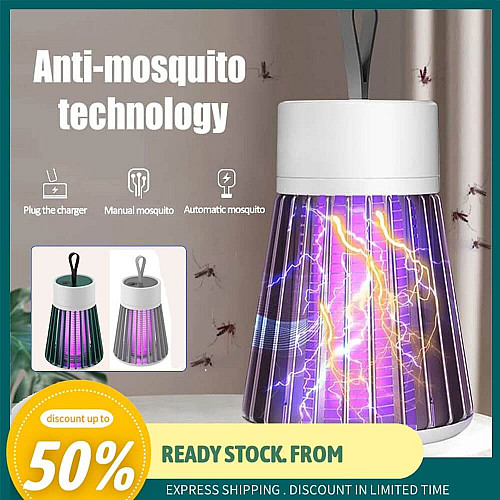 Electric USB Mosquito Killer Zapper Lamp


Product Description
Electric USB Mosquito Killer Zapper Lamp


1. Effective Protection: This mosquito killer works more effective without noise to protect you and your family from all kind of annoying bugs, fruit flies and mosquitoes. When they are attracted by mosquito trap's rays, the high-voltage power grid of mosquito traps indoor will kill those bugs by insect killer's electric shock. The mosquito killer lamp can also be used as low consumption night light.


2. Fully Safe -Our UV light mosquito killer doesn't release any bad smell, dangerous fumes, or lethal substances into your living environment. Indoor UV mosquito killer is also relatively quiet, thereby ensuring a good night's sleep. And with an ABS round grid body outside, it proves much safer for a place where you have kids or pet.


3. Easy To Clean And Beautiful-while its tough ABS plastic body is not just resistant to breaking, but looks elegant and minimal! Best mosquito killer can be used in the kitchen, bedroom, living room, dining room, and more!(away from rain and moisture)


4. Portable Mosquito Killer: Mini size and usb powered design make mosquito traps easy to carry. Mini size is ideal for both indoor and outdoor living spaces like your bedroom, living room, kitchen, patio, deck, and backyard use. Fly killer can kill bugs with electricity, protects you from bites without chemicals or pesticides.


5. electric mosquito killer is powered via a USB cable and can be connected to various USB ports, e.g. laptop, USB socket, power bank, conversion socket.




Specifications
Material: ABS
Color: Green,Gray
Input Voltage: 5V
Grid power :1000V
Rated Power: 5W
Wavelength: 365 nm
Protected Area: 10-50 Square meter
Tips for best capture results:
1. Run the device for 2-3 hours before bed to avoid mosquito bites.
2. Please put the device in a dark place for optimal capture.
3. Do not place the device too close to humans because human presence may impair its performance.
4. Please place the mosquito trap near the wall about 1 meter above the ground.
5. Works best in a dark and closed room. Applicable Area/Coverage: 10-50m²; Ultraviolet wavelengths: 365nm-395nm.
6. Works best for catching gnats, fruit flies and mosquitoes. Set up the insect trapper as close to the insects as possible (e.g next to the fruit, plants, or trash bin).
7. Easy Cleaning & Maintenance: Simple to remove bug collector tray and included cleaning brush to remove sticky dead bugs from the grid easily.


Packing List:
1*Mosquito Killer Lamp
1*USB Charging Cable